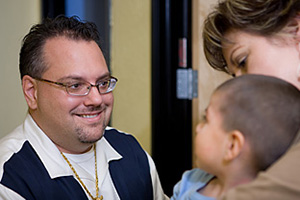 Thousands of people receive dental care every day. Just as many people don't, though they need it desperately. Why? Many are perfectly normal adults frozen by deep-rooted fear of dentistry. Others are delightful children who are simply not old enough to understand and cooperate. Some, because of autism, Down Syndrome and other special needs just can't see their way through a dental procedure. Some patients simply need a lot of work done and the thought of multiple sessions of treatment leaves them feeling overwhelmed, so they do nothing.
Everyone described on this page can find a satisfying solution through dental anesthesia. That's why we are here.
A Wonderful Memory Can Shape a Lifetime
A young mother named Kimberly heard her dentist say, "You'd better sit down." She did. "Your son Max has developed a mouth full of problems that need immediate attention." She felt like she was going to melt through the chair as her dentist described a scenario that involved multiple fillings and two conditions that would require extensive oral surgery.
For Max the day was set. Even though he'd jumped into a lake off a 60 foot cliff the week before he was a little nervous about this. But after the anesthesiologist chatted with him a while and gently gave him a little something to relax, Max was completely comfortable—and soon fell sound asleep. With the anesthesiologist keeping constant watch over Max, his vital signs, and general condition, the dentist performed every needed procedure during this single visit.
Kimberly took Max home. He was fine. Max slept through the night. The next morning, he felt like going to school and did.
A Bad Memory Can Last a Lifetime Too
Sarah with her two younger boys and her eight-year-old daughter, Analina, were cared for by a different dentist. Sarah literally collapsed into a state of shock as her dentist described the dental urgencies Analina faced—slightly different from Max's, but no less involved.
For Analina, without sedation, it took ten challenging visits. By the third visit, Analina, was beginning to dread and resist at the thought of it. Sarah and her husband, David, missed half days of work as they shared the responsibility for getting Analina to those ten appointments.
It's bad enough that there was more cost and inconvenience with this treatment plan, but the story about going to the dentist that will play in Sarah's mind for the rest of her life is very different from the story in Max's.
Everyone Has a Story
Every person who goes to the dentist has a story. All of the doctors at Southwest Dental Anesthesia Services want those stories to be better than sweet dreams. They team with your dentist to make that your reality. When the dentistry is difficult, they make sure a daunting script isn't scribbled into your story.